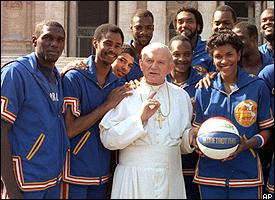 Many know that one of Pope John Paul II's great desires was to be a sportsman and to spend time on the stage as an actor. Well, because of its straight to DVD release, many are not aware that he was able to put both of these together in his starring role in "Jonny P and His Hommies: 'Trottin for the Lord!'"


Well, not many are aware that Pope Benedict's "pastoral visit" to the U.S. is also to coincide with world premiere of his new movie: "Star Trek VII: The Voyage to Rome" set to debut at the historic, Yankee Stadium. In this sequel Pope Benedict XVI sets himself apart as the lead character, "Captain Kirche."
While I've not yet seen the film, rumors abound about its content and plot. Evidently, one of the buzz-phrases, like those made popular by Arnold Schwarzenegger's "I'll be back!" is reputed to be [according to John C. Wright], "If Vulcans had a church, they'd be Catholics." I'm not sure what that means, but perhaps it's a reference to the pointy hats our bishops wear?

Look to the Shrine of the Holy Whapping for further reviews on this breaking news. I've included a couple stills provided by Casey Truelove from the movie for your viewing pleasure. Enjoy!